Latham Hotel
3000 M Street NW at 30th Street
Washington, DC 20007
Every year hundreds of thousands of travelers descend upon our nation's capital and discover for themselves why Washington, D.C. is considered one of the most respected and celebrated cities in the entire world. The Washington Monument, Arlington National Cemetery, the Vietnam Veteran's Memorial, the Lincoln Memorial, Georgetown and
the White House have all become beloved symbols of the D.C. area. In a city where hotels can be found every couple of feet, travelers can well-afford to be discerning when choosing accommodations. For those travelers who prefer world-class accommodations merged with personalized services, the Latham Hotel in Georgetown is the ideal choice. Since 1954, the Latham Hotel has been providing their guests with a cozy home away from home and the types of services that are usually reserved for the rich and famous. The Latham Hotel is conveniently located near many of the attractions that make Washington, D.C. such an exciting and vibrant city to visit including museums, historic landmarks, delicious restaurants and
savvy boutiques.
Charming Guest Rooms and Suites
The Latham Hotel in Georgetown boasts 143 guest accommodations, 27 of which are suites. Spread out over 10 spacious floors, each of the charming guest rooms and suites has been designed specifically with guest comfort in mind. Guests of the Latham Hotel may choose between several room types depending on their personal preferences when traveling away from home. Room types include Deluxe Rooms, Executive Kings, Mini Suites and Carriage Suites. The Deluxe Rooms feature either one king sized bed or two double beds. For those guests who really want to wallow in

the lap of luxury during their stay at the Latham Hotel, the Carriage Suite is the obvious choice. Beautifully appointed, this two-story guest accommodation features a full marble bathroom and king bedroom upstairs in addition to a guest bathroom and sitting room downstairs. The in-room amenities offered at the Latham easily set the hotel apart from other area hotels and inns. Plush terry cloth bathrobes and lavish products by Gilchrest & Soames await guests in the opulent bathrooms. Beds are dressed in luxurious linens and goose down comforters. Slipping into sweet dreams has never been easier. Business travelers will be pleased to discover that the guest accommodations also provide an excellent working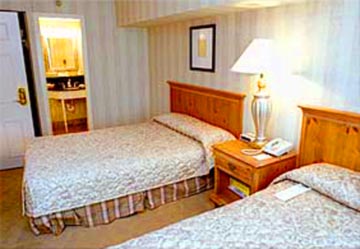 environment. In-room business amenities include a large working desk, direct dial telephones with voice mail and modem/data port connection, and a fax machine that also serves as a printer and copier. Other in-room luxuries include a remote controlled color cable television with pay-per-view movies and Nintendo video games, alarm clock radio, magnifying shaving/make-up mirror, heated towel bars, coffee maker, complimentary coffee, iron, ironing board, hairdryer, individual climate control and daily newspaper delivery. Children ages 17 years and younger stay at the Latham Hotel in Georgetown free of charge. Handicap accessible and nonsmoking rooms are
available upon request as are baby cribs.
Personalized Guest Services
The guest services that are offered at the Latham Hotel will leave guests feeling spoiled and pampered. The highly professional, always courteous staff prides themselves on providing their guests with five-star services. The small size of the hotel allows each guest to receive personalized attention. There is no chance of getting lost in the hustle and bustle as happens all too often at larger, less intimate hotels. The Latham Hotel's concierge has extensive knowledge of the Washington, D.C. area and will be more than happy to assist guests with everything from dining reservations and transportation arrangements to sightseeing recommendations and the securing of tickets to major events. Mom and dad can enjoy a much-deserved night out on the town and be rest assured that their most prized possessions are in excellent hands as the Latham Hotel offers babysitting service. The Latham Hotel is also the only hotel in Georgetown with a pool. During the warmer months, the sundeck, located poolside, is the best spot to work on a tan. The Latham realizes that not everyone is in town for pleasure purposes only. Business services include audiovisual equipment rental, photocopying, fax transmission and reception, meeting planner and overnight FedEx. Other guest services include nightly turndown, valet parking, on-site parking, express check-out, laundry, shoeshine and room service. Guests of the Latham Hotel enjoy access to a state-of-the-art fitness facility located nearby.
Location
The Latham Hotel is located in the heart of Washington, D.C. at 3000 M Street NW at 30th Street.

Check Availability of Washington DC Hotels
Washington DC Nightlife