Wyndham Washington, DC
1400 M Street
Washington, DC 20005
As our nation's capital, Washington, D.C. has long been one of the top travel destinations in the United States. Not only is the city steeped in history, but the cultural institutions and activities have made Washington, D.C. a popular stopping point for patrons of the arts. For those travelers who prefer luxurious accommodations combined with five-star guest
services, the Wyndham Washington is the obvious choice. Wyndham hotels have an impeccable reputation throughout the world for providing their guests with world class accommodations and the Wyndham Washington is no exception. The hotel is conveniently located near many of the city's most celebrated attractions including the White House, Arlington National Cemetery, the Vietnam's Veteran Memorial and the Lincoln Memorial in addition to numerous theaters, museums, restaurants and shops.
A Cozy Home Away from Home
The Wyndham Washington boasts 400 beautifully appointed guest accommodations, 13 of which are suites, which are spread out over 12 spacious floors. All guest rooms and suites are decorated and furnished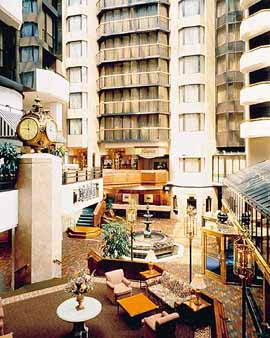 specifically to provide travelers with a comfy and cozy home away from home. The in-room amenities offered at the Wyndham Washington are sure to impress even the savviest of jet setters. The hotel's custom designed pillow-topped mattresses make slipping into sweet dreams easier than ever. Plush bathrobes and lavish bath products by Bath and Body Works await guests in the opulent bathrooms. In-room entertainment consists of a stereo and remote controlled color cable/Web television with on-command movies. Business travelers will discover that the guest rooms and suites also serve as an excellent working environment. In-room business amenities include a spacious working desk, desk-level electrical outlet, work chair designed specifically for comfort, ample lighting, fax machine, telephone jack adapters
for international guests, and dual-line telephones (one of which is cordless) with voice mail, speakerphone and modem/data port capabilities. All rooms are individually climate controlled ensuring maximum comfort for each and every guest. Other in-room luxuries include alarm clock, clothes press, iron, ironing board, coffee/tea maker, hairdryer and mini-bar. Complimentary newspapers are delivered to guests' rooms each morning. Handicap accessible and nonsmoking rooms are available upon request. Children ages 12 years and younger stay at the Wyndham Washington free of charge.
Impeccable Service
The services offered at the Wyndham Washington will leave guests feeling as if they have died and

gone to heaven. The highly professional, always courteous staff is on-hand to make sure that guests get the most out of their visit to Washington, D.C. The hotel's concierge has extensive knowledge of the capital area and will be more than happy to point guests in the direction of the city's many points of interest, hotspots and hidden gems. The staff realizes that not everyone is in town for pleasure purposes only. Business services include a business center, fax transmission and reception, audiovisual equipment rental, computer rental, photocopying, translation and secretarial support. Workout enthusiasts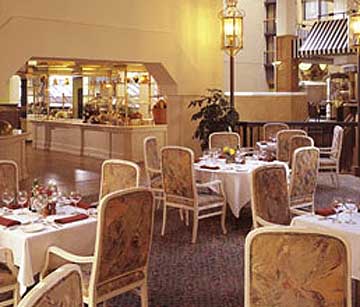 will be pleased to discover that the Wyndham Washington houses a state-of-the-art fitness facility. After a hard workout, guests can reward themselves with a body melting massage arranged through the concierge. Do you want to go home with a chic new look? The Wyndham Washington has its own beauty salon. Other guest services include wake-up calls, valet parking, around the clock room service, housekeeping, shuttle service to local attractions, taxi service, airline desk, bellhop, early check-in, express check-out, evening turndown, hotel parking, shoeshine, laundry and much, much more.
Location
The Wyndham Washington is located at 1400 M Street NW Vermont and Massachusetts Avenues in Washington, D.C.

Check Availability of Washington DC Hotels

Smithsonian Intimate Guide to the Cosmos