Willard Inter-Continental Hotel
1401 Pennsylvania Avenue NW
Washington, DC 20004
The Willard Hotel, located within two blocks of the White House has hosted every U.S. President since Franklin Pierce in 1850. This "Residence of Presidents" and countless other dignitaries closed for over 15 years and was brought back to life as the Willard Inter-Continental Hotel in 1986 after a $120
million restoration. The hotel also completed a $14 million renovation in October 2000.
Crystal chandeliers, marble columns, carved ceilings and reproductions of period furnishings allow guests to fully appreciate the Willard Hotel's storied past. A few of the hotel's many historical moments include Abraham Lincoln using his first paycheck as a U.S. President to pay his $773.75 hotel bill. Ulysses S. Grant was known to retreat to the hotel lobby to enjoy a good brandy with a cigar. "Lobbyists," as Grant called them, soon followed him there to bend his ear. The presidential flag flew over the Willard Hotel when Calvin Coolidge lived there as
he waited for the widow of President Harding to leave the White House. More recently, Martin Luther King wrote his inspiring "I Have a Dream" speech in the hotel in 1968.
The Willard Hotel Location
The Willard Inter-Continental Hotel is located in the heart of downtown of Washington, D.C on Pennsylvania Avenue. The hotel is within two blocks of the White House and the National Mall, the park that stretches about two-and-one- half miles from the Lincoln Memorial to the U.S. Capitol Building. In addition to the National Monuments, the attractions in this famous park also include the Vietnam Veterans Memorial, the Smithsonian, the

Air and Space Museum, the Museum of American History and the National History Museum. The hotel is one block from the city's Metro Station. The Metrorail system has over 75 stations traveling 100 miles around the metro area. There are stops at almost every attraction. Reagan National Airport is about five miles away. Washington Dulles Airport is 25 miles away. Baltimore Washington International Airport is 32 miles away.
The Willard Hotel Accommodations
The Willard Inter-Continental Hotel has 341 guest rooms including 38 suites. Room amenities include a marble top mini-bar, an oversized bathroom with telephone, television speaker, bathrobe and hair dryer. Each room also has Internet access, a dual

line telephone with voicemail, individual climate control and iron/ironing board. Services include complimentary shoeshine, complimentary newspaper and twice-daily maid service.
The Willard Hotel Suites
The Willard Inter-Continental Hotel has 38 suites including the 2,280-square- foot Presidential Suite. The Presidential Suite overlooks Pennsylvania Avenue and features two sitting rooms, one or two bedrooms, a dining room for 8 to 12 people, a marble bath with a Jacuzzi-style tub and a large kitchen. Other grand suites include the Federal Suite and the Capital Suite.
The Willard Hotel Dining
The Willard Room is the hotel's formal dining room and serves breakfast, lunch and dinner. The Round Robin Bar serves light meals

Monday through Saturday from 3:00 pm to 11:00 pm. The Café 1401 offers informal dining for breakfast and lunch. The hotel also offers 24-hour room service.
Additional Facilities
The Willard Inter-Continental has a fitness center, a business center and 18,000 square feet of meeting space.
Chesapeake Bay Fishing


Check Availability of Washington DC Hotels
Visit Georgetown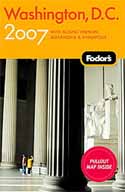 Fodor's Washington, DC 2007

Quick Washington, DC Job Search
Visit Annapolis