Chesapeake Bay Fishing


Omni Shoreham
2500 Calvert Street, NW
Washington, D.C. 20008
Washington, D.C. is not only our nation's capital, but it serves as one of our country's cultural epicenters as well. The city is absolutely bursting with history, celebrated landmarks and world renowned museums. The Omni Shoreham in Washington D.C. is both a beloved hotel and a historic landmark. Sitting atop of 11 beautiful acres, the Omni Shoreham Hotel is located in Rock Creek Park. Beginning in the 1930's, the Omni Shoreham has been providing their guests with the best there
is in accommodations and services as numerous world leaders and dignitaries have discovered over the years. In addition to the Omni's breathtaking environment, the hotel is conveniently located near many of the attractions that make Washington D.C. such a wonderful, educational and exciting city to visit. Nearby attractions include the Washington National Zoo, the Kennedy Center for the Performing Arts, the National Mall and the Vietnam Veteran's Memorial.
Cozy Accommodations
The Omni Shoreham Hotel in Washington, D.C. boasts 836 beautifully appointed guest rooms and suites, each of which has undergone a vast renovation project that has left the accommodations more cozy than ever.

Guests may choose between several room types depending on their personal preferences when traveling away from home. Room types include Queen, Double, Deluxe King, Deluxe Queen/Queen, Double/Double, Classic Suite, One-Bedroom Suite and Presidential Suite. All accommodations are decorated in a style that is more reminiscent of someone's home than a hotel room. All guest rooms and suites feature spectacular views of Rock Creek Park, the Woodly Park neighborhood or the National Cathedral. For those guests who want to absolutely wallow in the lap of luxury during their stay, the Presidential Suites are ideal.

Featuring either one or two bedrooms, the Presidential Suite includes a full kitchen, traditional dining room for entertaining and library. Handicap accessible and nonsmoking rooms are available upon request.
In-Room Luxuries
The in-room amenities offered at the Omni Shoreham Hotel in Washington, D.C. will leave guests feeling pampered and spoiled. All guest rooms and suites have a remote controlled color cable television with on-command movies. The kids will love the in-room games by Nintendo 64. Vacationers can stay caught up with the news as complimentary newspapers are delivered to guests' rooms each weekday morning. Keeping in-touch with the outside world has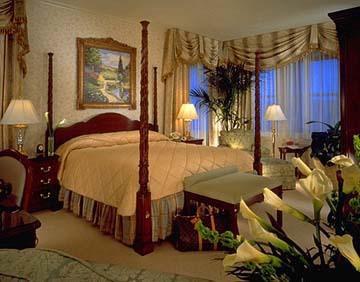 never been easier. All accommodations include two dual-line telephones with voice mail and modem/data port connections. Business travelers will be pleased to discover that not only do the rooms make a cozy home away from home, but they serve as an excellent working environment as well. In-room business amenities include spacious work desk with a pullout drawer perfect for a laptop, ample lighting and overstuffed chair. Other in-room luxuries include plush terry cloth bathrobe, lavish toiletry items, iron, ironing board, coffee maker and fully stocked mini-bar.
Phenomenal Guest Services
The guest services offered at the Omni Shoreham are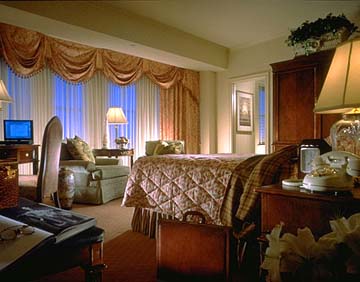 the type that is usually reserved for the rich and famous at other hotels. The highly professional, always courteous staff is multi-lingual ensuring that communication never need be a problem between guests and the staff. The hotel's concierge staff has extensive knowledge of the Washington, D.C area and will be more than happy to point guests in the direction of the city's many hot spots and hidden gems. When it comes to rest and relaxation the Omni Shoreham knows exactly what it takes to get guest in a vacation state-of-mind. The outdoor heated pool is open to guests during the warmer months and is a great spot to work on a tan. The whirlpool is the perfect spot to soak off the stresses of the real world during the colder times of year. Workout enthusiasts will want to take advantage of the Omni's spacious new fitness center. After a hard workout guests can enjoy a body melting massage from the comfort of their own room. Other guest services include around the clock in-room dining, valet parking, shoeshine, laundry, dry cleaning, Omni Kids Program, ATM in lobby, housekeeping, gift shop and a high-tech business center.
Location
The Omni Shoreham is located in the heart of Washington, D.C at 2500 Calvert Street, NW.
Check Availability of Washington DC Hotels

Washington Redskins Men's GM Series Steel Watch