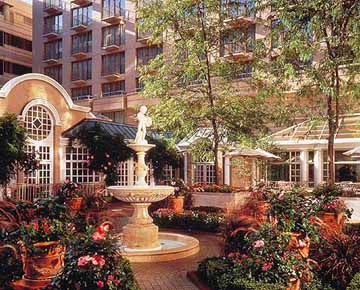 Monarch Hotel
2401 M Street, NW
Washington, D.C. 20037
---
Reservations from



For reservations, please call
Toll Free 1-866-809-9330
---
Not only is Washington, D.C. a city steeped in history, but it is also one of the United States? cultural epicenters as well. Every year, hundreds of thousands of travelers descend upon our nation?s capital which is absolutely exploding with historical monuments and celebrated museums. For those travelers who prefer world class accommodations merged with the best there is in guest services, the Monarch Hotel, located in Washington?s fashionable West End section of town, is the obvious choice. Built in 1985, the Monarch Hotel recently underwent a vast renovation project that has restored the property to its original splendor. The hotel is conveniently located near many of the city?s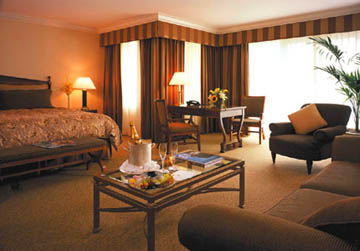 most popular tourist attractions including the Library of Congress, the Kennedy Center, Georgetown, Ford?s Theater and the Vietnam Veteran?s Memorial.
An Array of Accommodations
The Monarch Hotel boasts 415 beautifully appointed guest accommodations, 28 of which are suites, which are spread out over ten spacious floors. Guests of the Monarch may choose between several room types depending on their personal preferences when traveling away from home. Room types include Deluxe Room, Premier Room, Studio Suite, Monarch Suite, Kalorama Suite, Foxhall Suite, Shenandoah Suite, Lafayette Suite and Presidential Suite. All guest rooms and suites have been designed and furnished to provide travelers with a cozy place to lay their heads during their pilgrimage to our nation?s capital. The Studio Suite features a separate living and sleeping area as well as a dining room table. The Monarch Suite can be either one or two bedrooms and includes a formal dining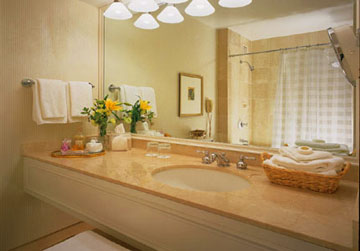 area that can accommodate six people in addition to an oversized parlor. The Kalorama and Foxhall Suite features two bedrooms, parlor and dining area. French doors overlook the beautifully landscaped garden courtyard. The Lafayette Suite includes a parlor room with living and dining areas in addition to a master bedroom and guest bedroom. For those travelers who really want to wallow in the lap of luxury during their stay at the Monarch Hotel, the Presidential Suite is ideal. Measuring 1,800 square feet, this suite?s floor plan includes a large parlor with living and dining areas, master bedroom, master bath with an opulent Jacuzzi tub and a second bedroom. Handicap accessible and nonsmoking accommodations are available upon request.
Wallow in the Lap of Luxury
The in-room amenities offered at the Monarch Hotel will leave guests feeling like royalty. Plush terry cloth bathrobes and lavish bath products by Molton-Brown await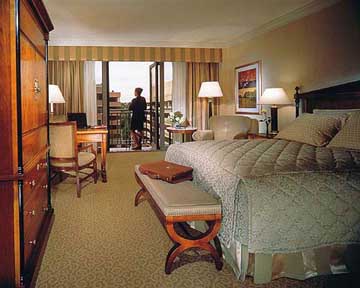 guests in the ornate bathrooms making tub time an eagerly anticipated experience. All accommodations are individually climate controlled ensuring maximum comfort for each and every guest. In-room entertainment consists of a remote controlled color cable television with pay-per-view movies as well as a CD player for guests? listening enjoyment. Business travelers will be delighted to discover that the guest rooms and suites serve as excellent working environments. In-room business amenities include a spacious work desk, ample lighting and three telephones with voice mail, call waiting and data port capabilities. Other in-room luxuries include iron, ironing board, complimentary morning newspaper delivered to guests? rooms, personal safe, hairdryer, bathroom scale, alarm clock, mini-bar and make-up mirror.
Guest Services Fit for a King
The guest services offered at the Monarch Hotel are the types that are usually reserved for the rich and famous. The hotel?s concierge staff boasts members of the elite Les Clefs d?Or. The concierge will be more than happy to assist guests with anything from transportation arrangements and dining reservations to sight-seeing recommendations and event tickets. The Monarch Hotel?s fitness center, voted one of America?s best hotel fitness centers by Allure magazine, features state-of-the-art equipment such as elliptical cross-trainers, free weights and virtual reality bike machines in addition to squash and racquetball courts, tanning booths, sauna and steam room. Other guest services include around the clock in-room dining, laundry, dry cleaning, valet parking, shoeshine, housekeeping, express check-out, wake-up calls and nightly turndown. The staff understands that not everyone is in town for pleasure purposes only. Business services include scanning, photocopying, fax transmission and reception, audiovisual equipment rental, shipping, courier and much, much more.
Location
The Monarch Hotel is located at 2401 M Street NW at 24th Street in Washington, D.C.

Washington DC Area Hotels Listed Alphabetically
Alexandria Hotels
Arlington Hotels
Washington DC Hotels
Featured Washington DC Hotels
Four Seasons Hotel
Georgetown Inn
Latham Hotel
The Madison Hotel
Monarch Hotel
Omni Shoreham Washington DC
St Gregory Hotel
Swissotel the Watergate Hotel
Willard Inter-Continental Washington DC
Wyndham Washington DC
Washington DC Souvenirs
Monarch Hotel Pages
Monarch Hotel Rates
Washington DC Hotels, Attractions, and Information
Bureau of Engraving and Printing
Iwo Jima Memorial
Jefferson Memorial
Library of Congress
National Zoo
The United States Capitol
Vietnam Veterans Memorial
Washington Monument
Hotels in other Maryland Cities
Aberdeen Hotels
Annapolis Hotels
Baltimore Hotels
Bethesda Hotels
Chevy Chase Hotels
College Park Hotels
Columbia Hotels
Frederick Hotels
Gaithersburg Hotels
Hagerstown Hotels
Laurel Hotels
Linthicum Hotels
Ocean City Hotels
Rockville Hotels
Silver Spring Hotels
Washington, DC Hotels
Hotels in other Virginia Cities
Alexandria Hotels
Arlington Hotels
Charlottesville Hotels
Chesapeake Hotels
Danville Hotels
Fairfax Hotels
Falls Church Hotels
Fredericksburg Hotels
Hampton Hotels
Harrisonburg Hotels
Herndon Hotels
Lexington Hotels
Lynchburg Hotels
Manassas Hotels
Martinsville Hotels
Newport News Hotels
Norfolk Hotels
Petersburg Hotels
Portsmouth Hotels
Reston Hotels
Richmond Hotels
Roanoke Hotels
Salem Hotels
South Boston Hotels
Staunton Hotels
Virginia Beach Hotels
Washington, DC Hotels
Williamsburg Hotels
Winchester Hotels
Wytheville Hotels
Yorktown Hotels
East Coast Travel Resources
Boston Hotels, Attractions, and Information
Charleston Hotels, Attractions, and Information
Myrtle Beach Hotels, Attractions, and Information
New York City Hotels, Attractions, and Information
Niagara Falls Hotels, Attractions, and Information
Philadelphia Hotels, Attractions, and Information
Washington, DC Hotels, Attractions, and Information
Alexandria Hotels
Arlington Hotels
Baltimore Hotels
Popular Travel Destinations
Chicago Hotels, Attractions, and Information
Dallas Hotels, Attractions, and Information
Hawaii Hotels, Attractions, and Information
Los Angeles Hotels, Attractions, and Information
Orlando Hotels, Attractions, and Information
San Diego Hotels, Attractions, and Information
San Francisco Hotels, Attractions, and Information
South Beach Hotels, Attractions, and Information